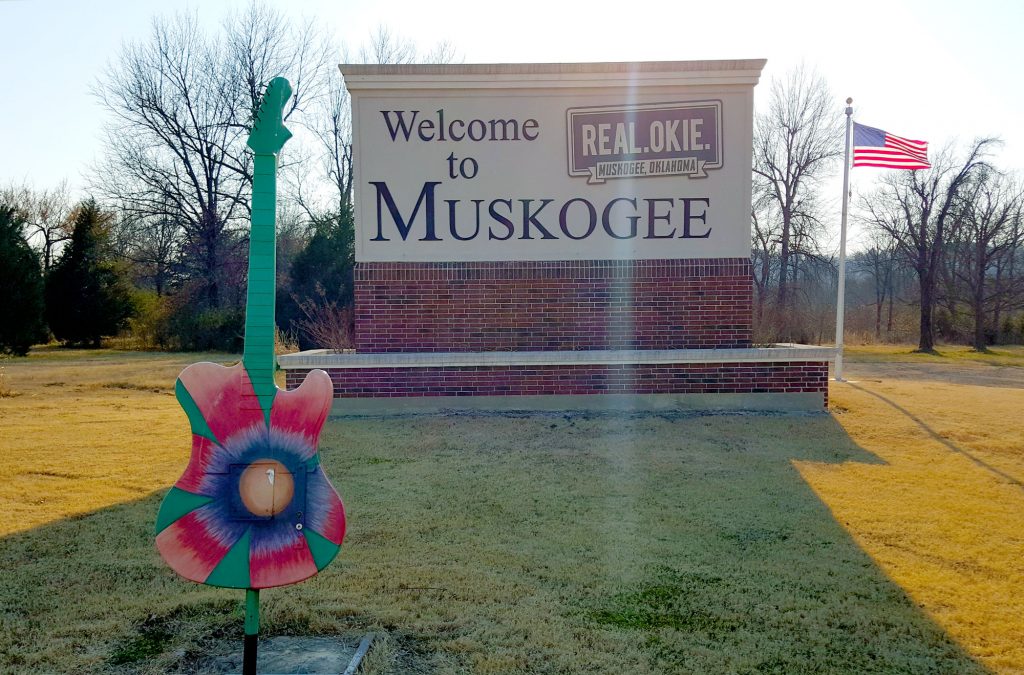 We were able to get away from the icy Illinois weather and spend a week in sunny San Antonio in the middle of February. My wife was at a conference during the day, so I had plenty of downtimes to explore the city and just relax. They were experiencing an early spring and the temperature was getting near 80 every day. That kind of weather in February was definitely good for recharging the spirit.
Strangely, we kept running into things of musical significance, so I snapped a few pictures with my new Samsung Smartphone. I had my DSLR with me, but the pictures from my Galaxy S5 Note were so amazing that the DSLR never came out of the camera bag. This may be the future of photography.
The first stop was in Muskogee, Oklahoma. Right at the edge of town was a tribute to Merle Haggard and his song Okie from Muskogee.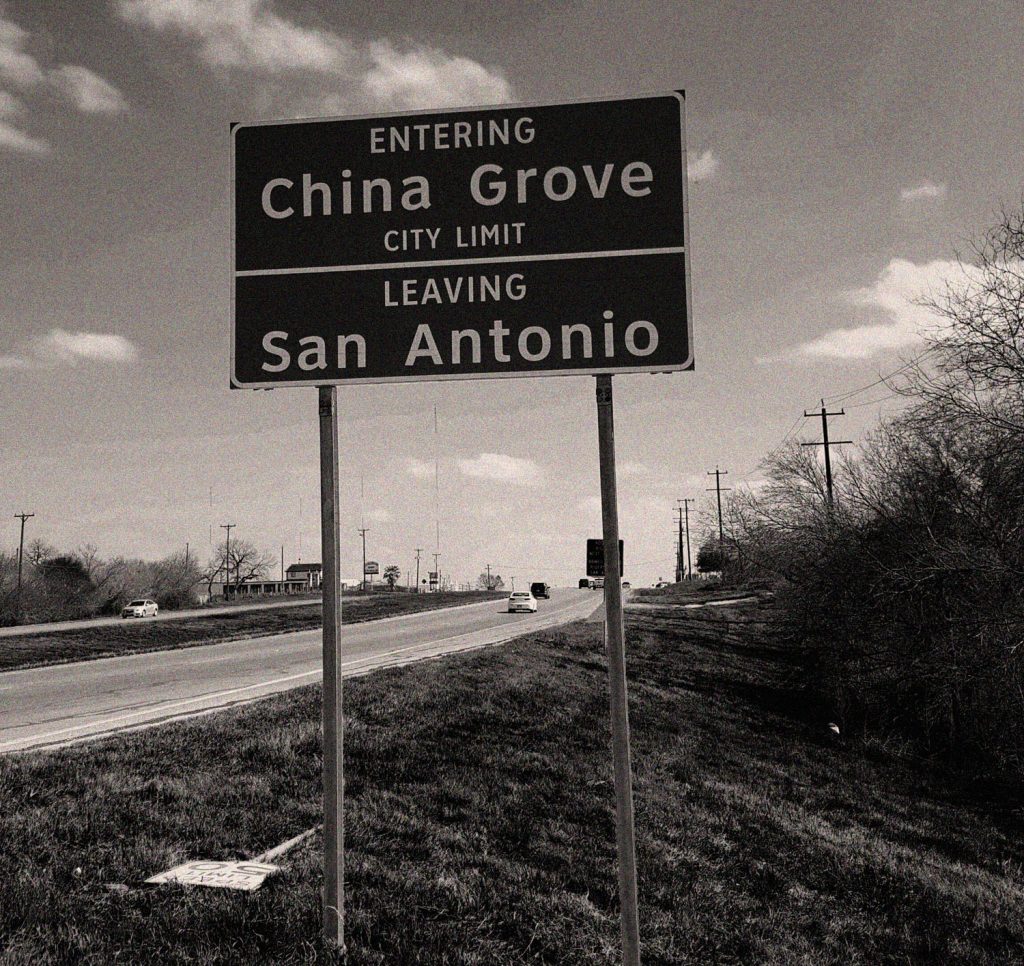 We stayed in McAllister, Oklahoma, for the night and then headed off in the morning for Texas. We crossed the Texas border and went through Dallas and on to Waco. Then we stopped for lunch at the famous Rudy's "Country Store" and Bar-B-Q, and sampled some Texas Barbequed brisket and then we were back on the road and on our way to our destination.
Heading into San Antonio, I took a little detour to the south and got a picture of the China Grove sign, and paid silent tribute to one of my favorite Doobie Brothers songs.
I spent the week touring the many missions in San Antonio, and of course the most famous one, the Alamo. Having seen pictures of the Alamo, I had assumed that it was out in the middle of nowhere, but it is actually right in the center of downtown San Antonio. I had a quiet lunch overlooking the city from the Tower of the Americas and also spent a bit of time on the beautiful Riverwalk.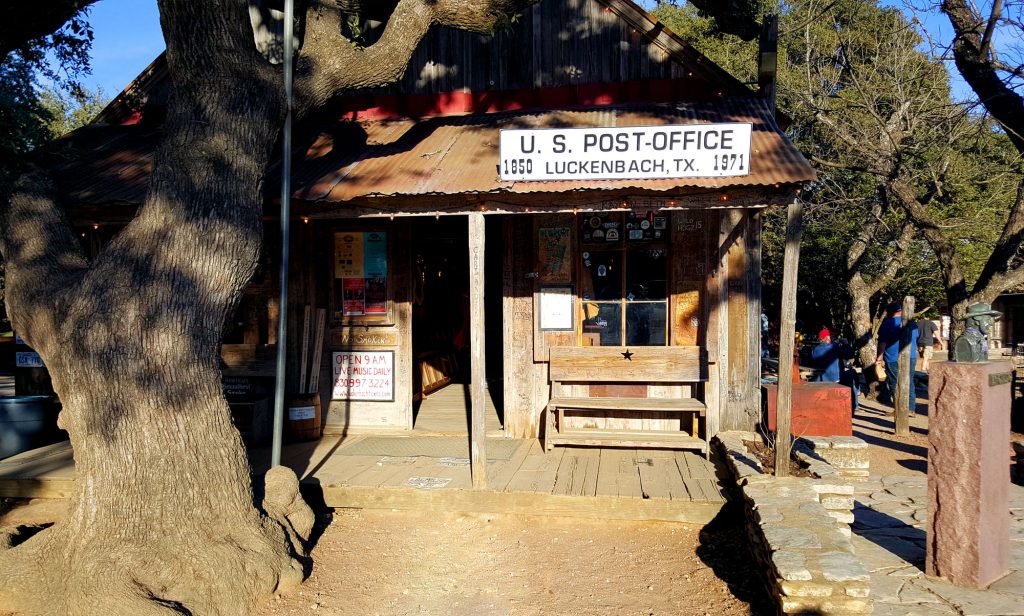 At the end of the week, we were able to drive out into beautiful Texas hill country and visit a winery and an olive oil ranch. As we drove around, we kept seeing signs for a place named Luckenbach, Texas, that said, "Live Music Every Day." In my ignorance of country music, I had never heard of it, but we took some back roads and found it. Wow, what a place. We visited the general store, grabbed a beer and listened to the jam sessions for a couple of hours before heading back to San Antonio.
The next day we began our trek back to snowy Illinois, but because of a mixup in plans, we weren't going to be stopping in St. Louis.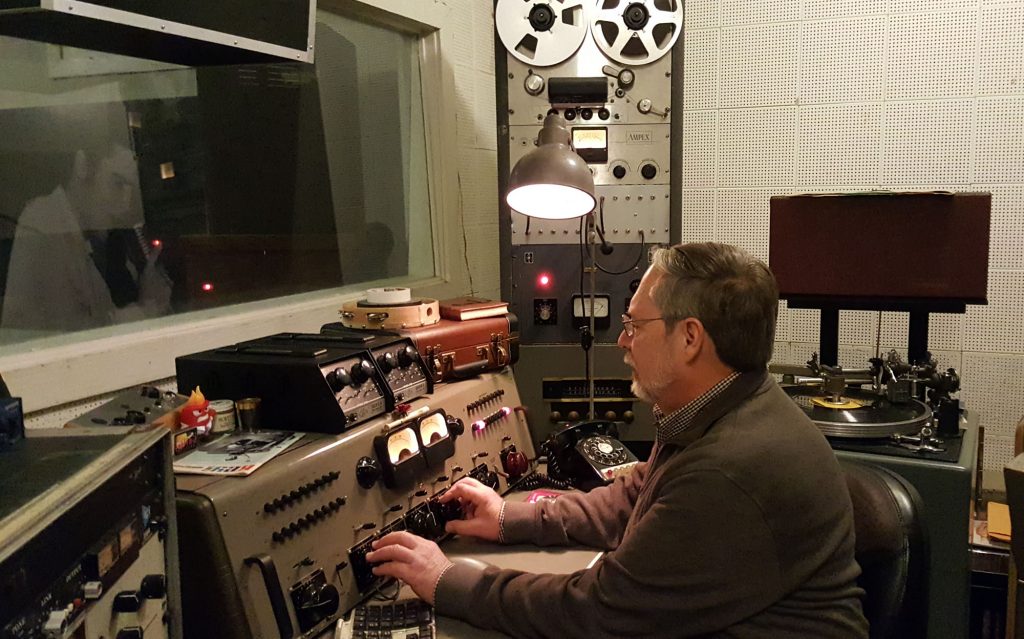 So, since we had a couple of extra days, we took a little detour from our planned route and stopped in Memphis to visit the legendary Sun Studio. We took the studio tour, led by the most capable Lahna Deering of Deering and Down. The control room wasn't on the tour, but Natalie talked to the tour guide and we were able to join a group of students from a college in Nashville and get a look inside the restored control room. Sitting behind that old console brought back a lot of memories. I had a couple of Ampex 351 recorders and a Presto disc cutting lathe when I opened my studio.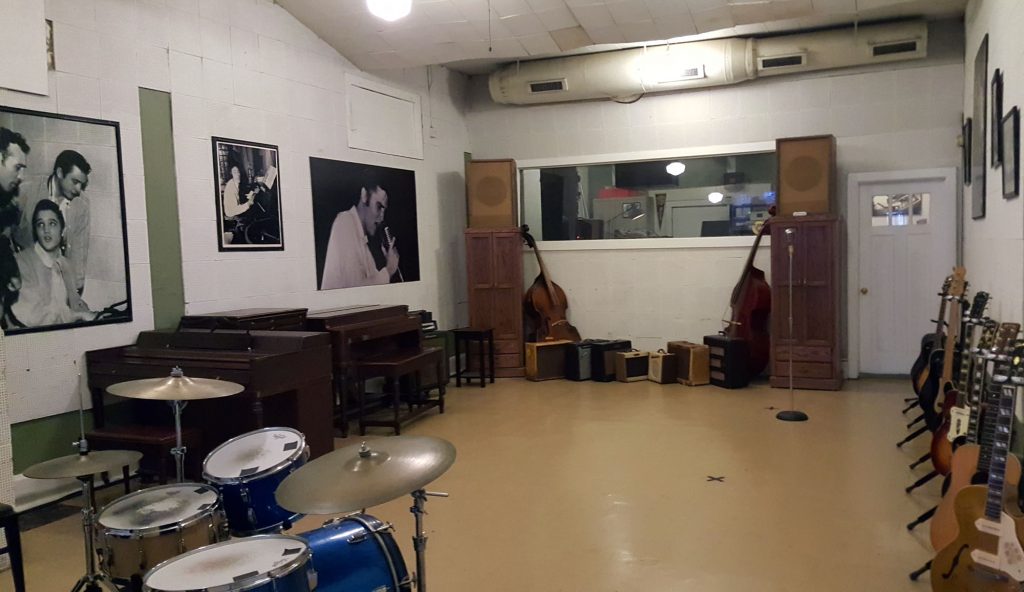 For a boxy room with 1950s acoustical tile on the walls, the studio space actually sounded very nice. But then I had a flash of insight as I stood in the space where Elvis had his beginning and the Million Dollar Quartet made their famous recording. I am guessing that this is true not only for classic recording spaces but classic equipment and microphones as well.
If you want to measure specifications, older equipment and microphones are inferior to much of what is being produced today. Studio and control room design has evolved greatly, also. We've had 70+ years of engineering and technical expertise to improve the equipment since the early days of recording. I firmly believe that today's equipment is more precise and has less distortion and noise than the equipment of yesteryear. That said, a lot more goes into creating great music than technological perfection.
If I am performing in the space where Rock and Roll got its start surrounded by images of these pioneers of music and the equipment they used, my performance will probably be different than if I were in some generic new studio with all of the latest digital equipment. There is an intangible value to these old spaces, classic microphones, and other vintage electronics that goes well beyond whatever contribution they might make to the sound. It is our connection to our roots and it evokes reverence and respect for the artistic contributions of our predecessors.
When the tours end at Sun Studio in the late afternoon, the studio comes to life again and is open for evening sessions. Doing a session at Sun Studio with one of my favorite groups is at the top of my bucket list.